AluK's UK Office Awarded 'Best Workplace Design of the Year'
14 Aug 2018
AluK's stunning new office in Chepstow, Monmouthshire, was named Workplace Design of the Year at the Insider Wales Property Awards this summer.
The building was one of seven new developments selected to compete in the final round of this category; its victory was announced at the awards ceremony in Cardiff City Hall.
The 350,000ft² workplace was designed by Cardiff-based Rio Architects, becoming part of the largest single investment in a manufacturing facility in Wales. The move was part of AluK's commitment to boost production capacity, support innovations in product design, showcase products, and provide warehousing and office space.
The facility won for its modern, open and contemporary environment, providing high levels of natural light, ventilation and excellent external views. Judges were particularly impressed by the building's new façade, innovative paint line, maximised natural light, break-out spaces and a more efficient factory layout.
Lee Protheroe, Senior Associate at Rio Architects, said:
"Rio Architects are delighted and honoured to receive the Insider Wales Property Award for the best Workplace Design of the Year 2018 for the AluK Headquarters in Chepstow. We would like to thank AluK for the fantastic opportunity to deliver a high-quality and modern working environment.
"The design concept aspired to provide AluK with a platform to showcase their products, which is realised with the new dynamic façade, reception area, workspaces and the AluK Design Studio. The new factory space is naturally lit and provides extensive production facilities together with a state-of-the-art research and development area.
"An excellent team effort delivered this outstanding office and industrial development that represents a significant investment by AluK."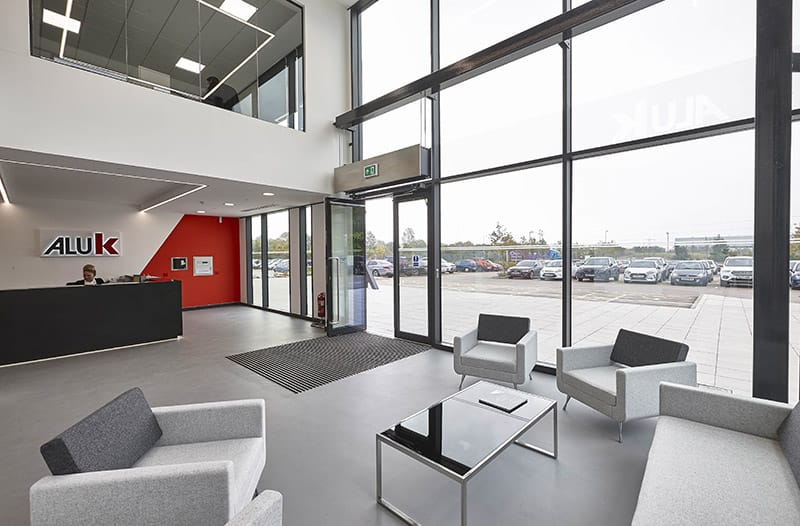 Russell Yates, Managing Director of AluK GB, is delighted with the recognition the building has attracted since opening. He said:
"We are naturally overjoyed that our headquarters has won such a prestigious national award. We worked incredibly hard with Rio Architects to realise our vision. It is truly an honour to have all the time, investment and effort of everyone involved recognised by Wales' biggest business title.
"We would very much like to thank Rio Architects for a wonderful job on our new home. The award is certainly well deserved."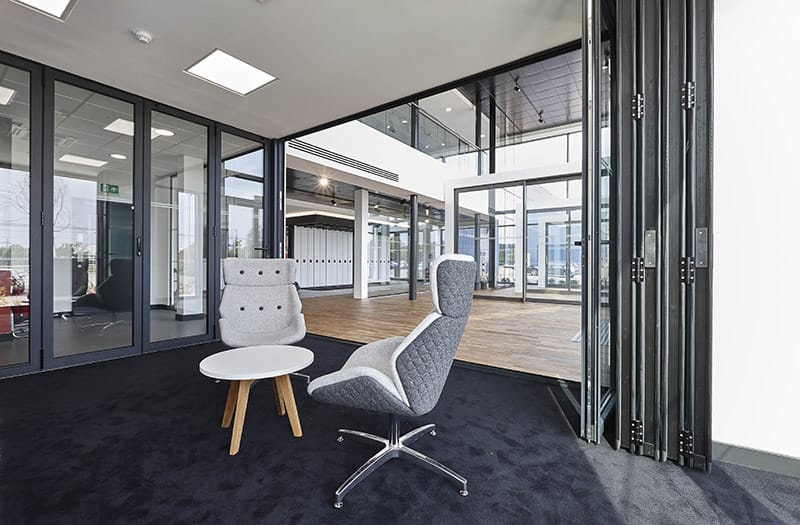 The new awards category, which debuted this year, was added to celebrate the growing number of innovative, high-quality office, and workplace fit-outs and refurbishments in Wales.
If you would like to arrange a visit this award-winning building, please call 01291 639 739 or email info.uk@aluk.com.